VTE has developed an innovative and unique solution for passing current through a barrier. Our Copper Core Power Bushing brings new features, low cost and ease of use to your current passing projects.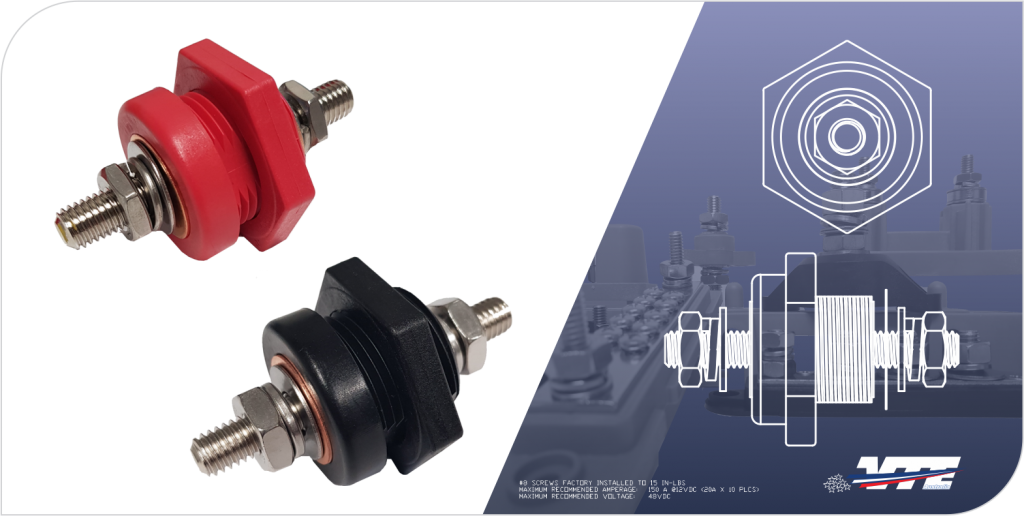 For panel thickness up to 13/32″
Easy to assemble and install
Very low cost
Copper Core SAE Max Amperage: Peak: 550amp @ 12vdc (6.6kw)
Copper Core Metric Max Amperage: Peak: 450amp @ 12vdc (5.4kw)
Available in Red & Black
Bushing Material : Glass-Filled Nylon
Post Material : Nickel Plated Mild Steel
Fastener (nut) Material : Stainless Steel
Use second panel nut (359N) for high dynamic loads Panel thickness up to 3/16″
Weatherproof: The inner panel seal provides a secure fastening base for our 258 Series Terminal Insulator. This insulator fits snugly around the panel seal, and when used with a 4/0 ga (120 mm2) cable, provides the assembly with IP-65 rating weatherproofing.
| Part Number | Availability | Description | Type | Category |
| --- | --- | --- | --- | --- |
| CCB376M0N02 | Stocked | Power Bushing – Copper Core: Red on Black, M10 | Assembly | Power Bushings |
| CCB376M0N02W | Stocked | Power Bushing – Copper Core: Red on Black, M10, WP | Assembly | Power Bushings |
| CCB376M0N05 | | Power Bushing – Copper Core: Yellow, M10 | Assembly | Power Bushings |
| CCB376M0N05W | | Power Bushing – Copper Core: Yellow, M10, WP | Assembly | Power Bushings |
| CCB376M0N14 | Stocked | Power Bushing – Copper Core: Black, M10 | Assembly | Power Bushings |
| CCB376M0N14W | Stocked | Power Bushing – Copper Core: Black, M10, WP | Assembly | Power Bushings |
| CCB376M0NR02 | | Power Bushing – Copper Core: Red, M10 | Assembly | Power Bushings |
| CCB376M0NR02W | | Power Bushing – Copper Core: Red, M10, WP | Assembly | Power Bushings |
| CCB376M1N02W | | Power Bushing – Copper Core: Red on Black, M10, WP, N4 | Assembly | Power Bushings |
| CCB376M1N14W | | Power Bushing – Copper Core: Black, M10, WP, N4 | Assembly | Power Bushings |
| CCB376M1NR02W | | Power Bushing – Copper Core: Red, M10, WP, N4 | Assembly | Power Bushings |
| CCB108N02 | | Power Bushing – Copper Core: Red, M10 – Heavy Amp | Assembly | Power Bushings |
| CCB108N02W | | Power Bushing – Copper Core: Red, M10, WP – Heavy Amp | Assembly | Power Bushings |
| CCB108N05 | | Power Bushing – Copper Core: Yellow, M10 – Heavy Amp | Assembly | Power Bushings |
| CCB108N05W | | Power Bushing – Copper Core: Yellow, M10, WP – Heavy Amp | Assembly | Power Bushings |
| CCB108N14 | | Power Bushing – Copper Core: Black, M10 – Heavy Amp | Assembly | Power Bushings |
| CCB108N14W | | Power Bushing – Copper Core: Black, M10, WP – Heavy Amp | Assembly | Power Bushings |
| CCB126N02 | | Power Bushing – Copper Core: Red, M12 | Assembly | Power Bushings |
| CCB126N02W | | Power Bushing – Copper Core: Red, M12, WP | Assembly | Power Bushings |
| CCB126N05 | | Power Bushing – Copper Core: Yellow, M12 | Assembly | Power Bushings |
| CCB126N05W | | Power Bushing – Copper Core: Yellow, M12, WP | Assembly | Power Bushings |
| CCB126N14 | | Power Bushing – Copper Core: Black, M12 | Assembly | Power Bushings |
| CCB126N14W | | Power Bushing – Copper Core: Black, M12, WP | Assembly | Power Bushings |
| CCB376N0N02 | Stocked | Power Bushing – Copper Core: Red on Black, 3/8″ | Assembly | Power Bushings |
| CCB376N0N02TEMP | | Power Bushing – Copper Core: Red, TEMP | Assembly | Power Bushings |
| CCB376N0N02W | Stocked | Power Bushing – Copper Core: Red on Black, 3/8″, WP | Assembly | Power Bushings |
| CCB376N0N05 | | Power Bushing – Copper Core: Yellow, 3/8″ | Assembly | Power Bushings |
| CCB376N0N05W | | Power Bushing – Copper Core: Yellow, 3/8″, WP | Assembly | Power Bushings |
| CCB376N0N14 | Stocked | Power Bushing – Copper Core: Black, 3/8″ | Assembly | Power Bushings |
| CCB376N0N14W | Stocked | Power Bushing – Copper Core: Black, 3/8", WP | Assembly | Power Bushings |
| CCB376N0NR02 | | Power Bushing – Copper Core: Red, 3/8″ | Assembly | Power Bushings |
| CCB376N0NR02W | | Power Bushing – Copper Core: Red, 3/8″, WP | Assembly | Power Bushings |
| CCB376N1N02W | | Power Bushing – Copper Core: Red on Black, WP, N4 | Assembly | Power Bushings |
| CCB376N1N14W | | Power Bushing – Copper Core: Black, WP, N4 | Assembly | Power Bushings |
| CCB376N1NR02W | | Power Bushing – Copper Core: Red, WP, N4 | Assembly | Power Bushings |
| CCB376X1N14 | | Power Bushing – Copper Core: Black, 3/8″, W/ID Ring | Assembly | Power Bushings |
| CCB376X2N14 | | Power Bushing – Copper Core: Black, M10, W/ID Ring | Assembly | Power Bushings |
| CCB378N02 | | Power Bushing – Copper Core: Red, 3/8″ – Heavy Amp | Assembly | Power Bushings |
| CCB378N02W | | Power Bushing – Copper Core: Red, 3/8″, WP – Heavy Amp | Assembly | Power Bushings |
| CCB378N05 | | Power Bushing – Copper Core: Yellow, 3/8″ – Heavy Amp | Assembly | Power Bushings |
| CCB378N05W | | Power Bushing – Copper Core: Yellow, 3/8″, WP – Heavy Amp | Assembly | Power Bushings |
| CCB378N14 | | Power Bushing – Copper Core: Black, 3/8″ – Heavy Amp | Assembly | Power Bushings |
| CCB378N14W | | Power Bushing – Copper Core: Black, 3/8″, WP – Heavy Amp | Assembly | Power Bushings |
| CCB506N02 | | Power Bushing – Copper Core: Red, 1/2″ | Assembly | Power Bushings |
| CCB506N02W | | Power Bushing – Copper Core: Red, 1/2″, WP | Assembly | Power Bushings |
| CCB506N05 | | Power Bushing – Copper Core: Yellow, 1/2″ | Assembly | Power Bushings |
| CCB506N05W | | Power Bushing – Copper Core: Yellow, 1/2″, WP | Assembly | Power Bushings |
| CCB506N14 | | Power Bushing – Copper Core: Black, 1/2″ | Assembly | Power Bushings |
| CCB506N14W | | Power Bushing – Copper Core: Black, 1/2″, WP | Assembly | Power Bushings |
| CCBXC102 | | Power Bushing – Copper Core: Red, 2.8″ x 3/8″- Chief | Assembly | Power Bushings |
| CCBXC114 | | Power Bushing – Copper Core: Black, 2.8″ x 3/8″- Chief | Assembly | Power Bushings |
| CCBXC202 | | Power Bushing – Copper Core: Red, M10 – Chief | Assembly | Power Bushings |
| CCBXC214 | | Power Bushing – Copper Core: Black, M10 – Chief | Assembly | Power Bushings |
| CCBXL102 | | Power Bushing – Copper Core: Red – Lithionics | Assembly | Power Bushings |
| CCBXL114 | | Power Bushing – Copper Core: Black – Lithionics | Assembly | Power Bushings |