Single point power posts can be used to connect power lines or consolidate ground lines. Our single point posts come in large and small base, and have post sizes from #10 up to 3/8″. At a very attractive cost, our single point posts are easy on the budget and very popular.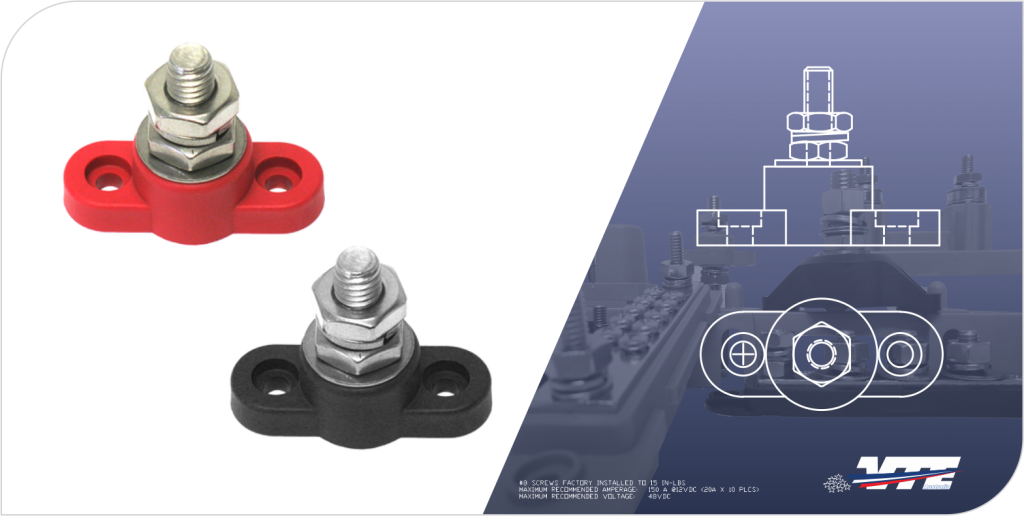 Create reliable, trouble-free circuit
Used to connect two or more voltage lines
Hook up negative return lines to single cable
Available with large or small base
Max Amperage: 160 amps @ 12 vdc
Max Voltage: 48 vdc
Available in multiple stud heights (optional)
Available material : Glass-Filled nylon
Available Colors : Red & Black
Connection post : Stainless steel
Connection nuts : Stainless Steel
Flat washer : Stainless steel
Spring washer : Stainless steel.
| Part Number | Availability | Description | Type | Category |
| --- | --- | --- | --- | --- |
| 77008N02 | Stocked | 1 Point Power Distribution Post: Red, M8 Post | Assembly | 1 Point Small |
| 77008N14 | Stocked | 1 Point Power Distribution Post: Black, M8 Post | Assembly | 1 Point Small |
| 77008X1B14 | | 1 Point Power Distribution Post: Black, M8 Post, V0 | Assembly | 1 Point Small |
| 77008X1B15 | | 1 Point Power Distribution Post: Natural, M8 Post, V0 | Assembly | 1 Point Small |
| 77010N02 | | 1 Point Power Distribution Post: Red, #10 Post | Assembly | 1 Point Small |
| 77010N02X | | 1 Point Power Distribution Post: Red, #10 Post | Assembly | 1 Point Small |
| 77010N14 | | 1 Point Power Distribution Post: Black, #10 Post | Assembly | 1 Point Small |
| 77010N14X | | 1 Point Power Distribution Post: Black, #10 Post | Assembly | 1 Point Small |
| 77025-XN02 | | 1 Point Power Distribution Post: Red, 1/4″ Post | Assembly | 1 Point Small |
| 77025-XN14 | | 1 Point Power Distribution Post: Black, 1/4″ Post | Assembly | 1 Point Small |
| 77025CN02 | | 1 Point Power Distribution Post: Red, 1/4″ Post – Commercial OBSOLETE | Assembly | 1 Point Small |
| 77025CN14 | | 1 Point Power Distribution Post: Black, 1/4″ Post – Commercial OBSOLETE | Assembly | 1 Point Small |
| 77025EN02 | | 1 Point Power Distribution Post: Red, 1/4″ Post – Economy OBSOLETE | Assembly | 1 Point Small |
| 77025EN02X1 | | 1 Point Power Distribution Post: Red, 1/4″ Post (Short) – Endries | Assembly | 1 Point Small |
| 77025EN14 | | 1 Point Power Distribution Post: Black, 1/4″ Post – Economy OBSOLETE | Assembly | 1 Point Small |
| 77025EN14X1 | | 1 Point Power Distribution Post: Black, 1/4″ Post (Short) – Endries | Assembly | 1 Point Small |
| 77025N02 | Stocked | 1 Point Power Distribution Post: Red, 1/4″ Post | Assembly | 1 Point Small |
| 77025N02X1 | | 1 Point Power Distribution Post: Red, 1/4″ Post – Endries | Assembly | 1 Point Small |
| 77025N14 | Stocked | 1 Point Power Distribution Post: Black, 1/4″ Post | Assembly | 1 Point Small |
| 77025N14X1 | | 1 Point Power Distribution Post: Black, 1/4″ Post – Endries | Assembly | 1 Point Small |
| 77025X2N02 | | 1 Point Power Distribution Post: Red, 1/4″ Post – Go Float | Assembly | 1 Point Small |
| 77025X2N14 | | 1 Point Power Distribution Post: Black, 1/4″ Post – Go Float | Assembly | 1 Point Small |
| 77025XN02 | | 1 Point Power Distribution Post: Red, 1/4″ Post | Assembly | 1 Point Small |
| 77025XN14 | | 1 Point Power Distribution Post: Black, 1/4″ Post | Assembly | 1 Point Small |
| 77031-XN02 | | 1 Point Power Distribution Post: Red, 5/16″ Post | Assembly | 1 Point Small |
| 77031-XN14 | | 1 Point Power Distribution Post: Black, 5/16″ Post | Assembly | 1 Point Small |
| 77031CN02 | | 1 Point Power Distribution Post: Red, 5/16″ Post – Commercial OBSOLETE | Assembly | 1 Point Small |
| 77031CN14 | | 1 Point Power Distribution Post: Black, 5/16″ Post – Commercial OBSOLETE | Assembly | 1 Point Small |
| 77031EN02 | | 1 Point Power Distribution Post: Red, 5/16″ Post – Zi Plated Hardware OBSOLETE | Assembly | 1 Point Small |
| 77031EN14 | | 1 Point Power Distribution Post: Black, 5/16″ Post – Zi Plated Hardware OBSOLETE | Assembly | 1 Point Small |
| 77031N02 | Stocked | 1 Point Power Distribution Post: Red, 5/16″ Post | Assembly | 1 Point Small |
| 77031N05 | | 1 Point Power Distribution Post: Yellow, 5/16″ Post | Assembly | 1 Point Small |
| 77031N09 | | 1 Point Power Distribution Post: Blue, 5/16″ Post | Assembly | 1 Point Small |
| 77031N14 | Stocked | 1 Point Power Distribution Post: Black, 5/16″ Post | Assembly | 1 Point Small |
| 77031X1N02 | | 1 Point Power Distribution Post: Red, 5/16″ Post – Chief | Assembly | 1 Point Small |
| 77031X1N14 | | 1 Point Power Distribution Post: Black, 5/16″ Post – Chief | Assembly | 1 Point Small |
| 77037-N02X | | 1 Point Power Distribution Post: Red, 3/8″ Post | Assembly | 1 Point Small |
| 77037-N14X | | 1 Point Power Distribution Post: Black, 3/8″ Post | Assembly | 1 Point Small |
| 77037-XN02 | | 1 Point Power Distribution Post: Red, 3/8″ Post | Assembly | 1 Point Small |
| 77037-XN14 | | 1 Point Power Distribution Post: Black, 3/8″ Post | Assembly | 1 Point Small |
| 77037-XP02 | | 1 Point Power Distribution Post: Red, 3/8″ Post, PP | Assembly | 1 Point Small |
| 77037-XP14 | | 1 Point Power Distribution Post: Black, 3/8″ Post, PP | Assembly | 1 Point Small |
| 77037EN14X1 | | 1 Point Power Distribution Post: Black, 3/8″ Post – Economy | Assembly | 1 Point Small |
| 77037N02 | Stocked | 1 Point Power Distribution Post: Red, 3/8″ Post | Assembly | 1 Point Small |
| 77037N02X | | 1 Point Power Distribution Post: Red, 3/8″ Post | Assembly | 1 Point Small |
| 77037N14 | Stocked | Power Post, Small Base, 3/8″ Post, Black | Assembly | 1 Point Small |
| 77037N14X | | 1 Point Power Distribution Post: Black, 3/8″ Post – Zero | Assembly | 1 Point Small |
| 77037X1N02 | | 1 Point Power Distribution Post: Red, 3/8″ Post | Assembly | 1 Point Small |
| 77037X1N14 | | 1 Point Power Distribution Post: Black, 3/8″ Post | Assembly | 1 Point Small |
| 77037X2N02 | | 1 Point Power Distribution Post: Red, 3/8″ Post | Assembly | 1 Point Small |
| 77037X2N14 | | 1 Point Power Distribution Post: Black, 3/8″ Post | Assembly | 1 Point Small |
| 77037X3N02 | | 1 Point Power Distribution Post: Red, 3/8″ Post | Assembly | 1 Point Small |
| 77037X3N14 | | 1 Point Power Distribution Post: Black, 3/8″ Post | Assembly | 1 Point Small |
| 77037X4N02 | | 1 Point Power Distribution Post: Red, 3/8″ Post | Assembly | 1 Point Small |
| 77037X4N14 | | 1 Point Power Distribution Post: Black, 3/8″ Post | Assembly | 1 Point Small |
| 77037XN02 | | 1 Point Power Distribution Post: Red, 3/8″ Post – Custom | Assembly | 1 Point Small |
| 77037XN14 | | 1 Point Power Distribution Post: Black, 3/8″ Post – Custom | Assembly | 1 Point Small |