VTE has developed an innovative and unique solution for passing current through a barrier. Our Copper Core Flange Bushing brings new features, low cost and ease of use to your current passing applications.
Our Copper Core Flange Bushings have been designed with these key components in mind:
High Energy Transfer
High Torque
High Anti-Rotation
Multiple Weatherproof Options
Low Production Cost
Small Insulated Footprint For panel thickness up to .40″ (10.7mm)
Easy to install
Very low cost
Copper Core SAE Max Amperage: Peak: 550amp @ 12vdc (6.6kw)
Duty Cycle: 80%
Copper Core Metric Max Amperage: Peak: 450amp @ 12vdc (5.4kw)
Duty Cycle: 80%
Max Voltage: 48vdc
Available in Red, Black & Yellow
Bushing Material: Glass-Filled Nylon
Post Material: Nickel Plated Mild Steel
Fastener (nut) Material: Stainless Steel
Can be fastened to panel with screws or nut & bolt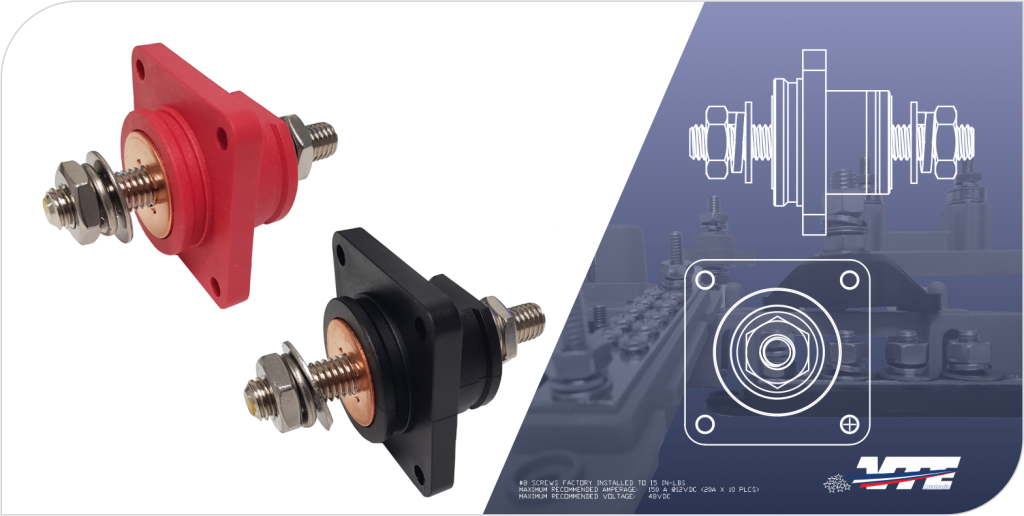 Weatherproof: The inner panel seal provides a secure fastening base for our 258 Series Terminal Insulator. This insulator fits snugly around the panel seal, and when used with a 4/0 ga (120 mm2) cable, provides the assembly with IP-65 rating weatherproofing.
| Part Number | Availability | Description | Type | Category |
| --- | --- | --- | --- | --- |
| CCFB106N02 | Stocked | Flange Bushing – Copper Core: Red, M10 | Assembly | Power Bushings |
| CCFB106N02W | Stocked | Flange Bushing – Copper Core: Red, M10, WP | Assembly | Power Bushings |
| CCFB106N05 | | Flange Bushing – Copper Core: Yellow, M10 | Assembly | Power Bushings |
| CCFB106N05W | | Flange Bushing – Copper Core: Yellow, M10, WP | Assembly | Power Bushings |
| CCFB106N14 | Stocked | Flange Bushing – Copper Core: Black, M10 | Assembly | Power Bushings |
| CCFB106N14W | Stocked | Flange Bushing – Copper Core: Black, M10, WP | Assembly | Power Bushings |
| CCFB108N02 | | Flange Bushing – Copper Core: Red, M10 | Assembly | Power Bushings |
| CCFB108N02W | | Flange Bushing – Copper Core: Red, M10, WP | Assembly | Power Bushings |
| CCFB108N05 | | Flange Bushing – Copper Core: Yellow, M10 | Assembly | Power Bushings |
| CCFB108N05W | | Flange Bushing – Copper Core: Yellow, M10, WP | Assembly | Power Bushings |
| CCFB108N014 | | Flange Bushing – Copper Core: Black, M10 | Assembly | Power Bushings |
| CCFB108N014W | | Flange Bushing – Copper Core: Black, M10, WP | Assembly | Power Bushings |
| CCFB376N02 | | Flange Bushing – Copper Core: Red, 3/8″ | Assembly | Power Bushings |
| CCFB376N02W | Stocked | Flange Bushing – Copper Core: Red, 3/8″, WP | Assembly | Power Bushings |
| CCFB376N05 | | Flange Bushing – Copper Core: Yellow, 3/8″ | Assembly | Power Bushings |
| CCFB376N05W | Stocked | Flange Bushing – Copper Core: Yellow, 3/8″, WP | Assembly | Power Bushings |
| CCFB376N14 | | Flange Bushing – Copper Core: Black, 3/8″ | Assembly | Power Bushings |
| CCFB376N14W | Stocked | Flange Bushing – Copper Core: Black, 3/8″, WP | Assembly | Power Bushings |
| CCFB378N02 | | Flange Bushing – Copper Core: Red, 3/8″ | Assembly | Power Bushings |
| CCFB378N02W | | Flange Bushing – Copper Core: Red, 3/8″. WP | Assembly | Power Bushings |
| CCFB378N05 | | Flange Bushing – Copper Core: Yellow, 3/8″ | Assembly | Power Bushings |
| CCFB378N05W | | Flange Bushing – Copper Core: Yellow, 3/8″, WP | Assembly | Power Bushings |
| CCFB378N14 | | Flange Bushing – Copper Core: Black, 3/8″ | Assembly | Power Bushings |
| CCFB378N14W | | Flange Bushing – Copper Core: Black, 3/8″, WP | Assembly | Power Bushings |
| CCFB126N02 | | Flange Bushing – Copper Core: Red, M12 | Assembly | Power Bushings |
| CCFB126N02W | | Flange Bushing – Copper Core: Red, M12, WP | Assembly | Power Bushings |
| CCFB126N05 | | Flange Bushing – Copper Core: Yellow, M12 | Assembly | Power Bushings |
| CCFB126N05W | | Flange Bushing – Copper Core: Yellow, M12, WP | Assembly | Power Bushings |
| CCFB126N14 | | Flange Bushing – Copper Core: Black, M12 | Assembly | Power Bushings |
| CCFB126N14W | | Flange Bushing – Copper Core: Black, M12 – WP | Assembly | Power Bushings |
| CCFB506N02 | Stocked | Flange Bushing – Copper Core: Red, 1/2″ | Assembly | Power Bushings |
| CCFB506N02W | | Flange Bushing – Copper Core: Red, 1/2″, WP | Assembly | Power Bushings |
| CCFB506N05 | | Flange Bushing – Copper Core: Yellow, 1/2″ | Assembly | Power Bushings |
| CCFB506N05W | | Flange Bushing – Copper Core: Yellow, 1/2″, WP | Assembly | Power Bushings |
| CCFB506N14 | Stocked | Flange Bushing – Copper Core: Black, 1/2″ | Assembly | Power Bushings |
| CCFB506N14W | | Flange Bushing – Copper Core: Black, 1/2″, WP | Assembly | Power Bushings |